Offered online and in person
by
Rocky Mountain Lifestyle Center
July 5 – Aug 6
Struggling with high blood sugars? You're not alone. Today, more than a third of all Americans have either diabetes or pre-diabetes. If current trends continue, this will increase to half of all Americans by 2022. 
Diabetes and pre-diabetes significantly increase the risk of heart disease and many other devastating complications. 
But current trends don't have to continue, especially not in your case. Diabetes can be undone. Type 2 diabetes is not only preventable, it's also reversible. 
For the past 25 years, I've worked with thousands of clients to reverse diabetes and other chronic health conditions. What have their stories taught me? There's hope for change and hope for you. 
Diabetes Undone will empower you to optimize nutrition, exercise, and other powerful lifestyle strategies to reclaim your health. You'll learn how to fight high blood sugars by addressing their underlying causes. 
This course can also help those with type 1 diabetes to control the condition and prevent complications. Even better, the same strategies that fight diabetes also effectively combat heart disease, obesity, cancer, autoimmune disease, and many other health conditions. 
This course isn't just about diabetes; it's about experiencing optimal wellness in every area of your life—body, mind, and spirit. So, let's get started. Today is the first day of your new health story.
In ten sessions you will learn the cause of diabetes and by treating the cause put it in remission.  Learn the importance of the right lifestyle, including exercise, sleep, fresh air and sunlight and of course the food that you eat.  Be able to make choices between Red light, Yellow light and Green light foods including delicious easy to fix recipes.  There are however side effects: wt. loss, decreased blood pressure, decreased risk for heart attack, stroke and cancer, just to name a few.
Remission vs Reversal
Even though this program uses the terms reversal and undone.  The facilitator will refer to the positive outcome as REMISSION to avoid the possible confusion that if you return to the lifestyle that contributed to the diabetes in the first place it can return.
The virtual experience will be carried out on ZOOM, allowing for the slides and videos to be shared easily but provide opportunities for questions and discussions from the participants.  However, if you miss a live session, you will be able to watch a recorded version of the class at any time.
The live sessions will be held Monday and Wednesday at 11-12:30 or 6:30-8:00pm, from July 5 to August 6
A Spanish version of Diabetes Undone will be offered on Tuesdays and Thursdays at 11-12:30 or 6:30-8:00 starting June 29 for 10 sessions ending on July 29.

A ZOOM link will be provided on request by email at info@rmlc.online, for those who cannot attend in person.

The cost of the program is $25, and optional but recommended kit of cookbook, workbook and video is an extra $60.

Ongoing support will be provided by trained "Health Partners" to help you make these important lifestyle changes permanent.

To register: Call 303-282-3676 or email us at info@rmlc.online .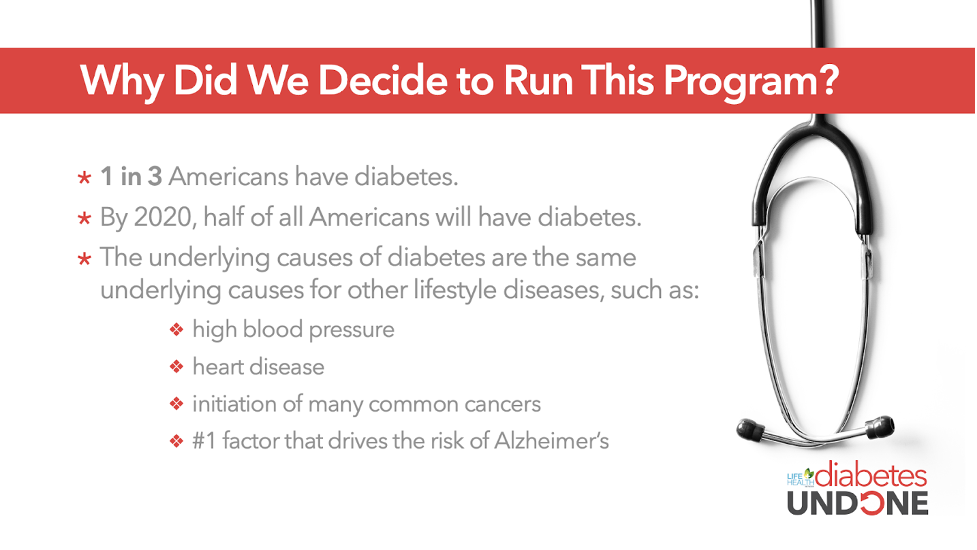 This material is intended for informational purposes only and is not a substitute for examination, diagnosis and medical care provided by a licensed and qualified health professional. Please consult your physician before undertaking any form of medical treatment and/or adopting any exercise program or dietary guidelines. If you think you may have a medical emergency, call 911 immediately.